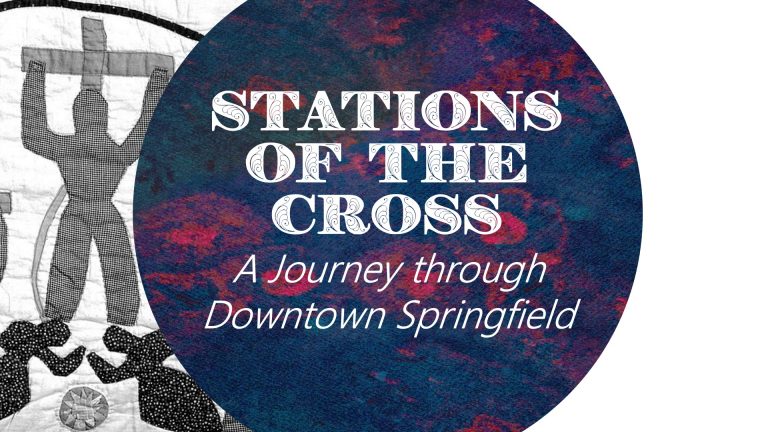 Welcome to the Stations of the Cross:
A Journey Through Downtown Springfield
Who is Jesus? As the Son of God, he was fully divine, but that was very difficult to see when he was ultimately arrested for who he claimed to be and what he had done with great love and care for others. The time from his arrest to his burial was a painfully human experience, with many moments of interaction and suffering that remind us that Jesus does not take his relationship with us lightly and is willing to go to such lengths to love us.
Important moments in that journey are called "stations", and the Stations of the Cross was developed by the Roman Catholic church as a means of accessibility for those who could not make the costly pilgrimage to the Holy Land to walk the actual path that Jesus walked to the cross. This modern-day version is also designed to be accessible by connecting current issues in the community and relating them to the sufferings of Jesus on his way to his crucifixion through the convenience of a smartphone.
The eight stations you will visit on this journey may also be a painfully human experience for you. By visiting these locations and experiencing what has happened or does happen in these locations, you will live not only into the experience of what Jesus faced, but also the very real human experience in Springfield.
Some stations conjure modern day images of suffering, abuse and death, no different than what Jesus experienced. These real events may be difficult for some to experience, especially if it has been personally experienced, so please take this journey carefully and seriously.
The blessing of this journey is that it only goes at your pace and it does not need to be completed at one time. You can visit one station at a time or revisit the journey with others. This journey is not limited to any church, denomination or even faith. This is a doorway into a very personal journey and can reveal much about yourself, the people in your community and who Jesus is to you.
We mourn for the people who fall victim in these experiences and we walk with them and pray for them with each step. The hope in these stations is that there is life beyond suffering. That is promised through the acts of Jesus. It is witnessed today through organizations in the area led by people who feel a need to respond and offer life. Asbury's prayer is that you are also moved to respond and offer life where there is suffering and death.
Blessings on this sacred journey.